Bloomberg Philanthropies Names Baruch a "High-Flier"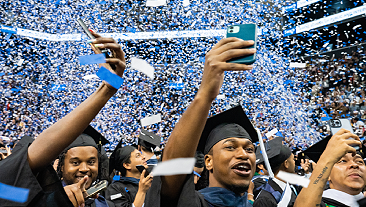 Baruch College has been named an American Talent Initiative (ATI) High-Flier, one of only 28 high-graduation-rate institutions that are national leaders in college access and success for lower-income students.
"Baruch Topples Princeton" in Global MFE Ranking
Baruch College's Master of Science in Financial Engineering (MFE) program is the best of its kind in the world, according to leading business publication Risk.net. The program took the #1 spot on Risk's 2023 "Quant Finance Master's Guide," the go-to ranking for Wall Street recruiters for the best academic programs that train future quant leaders.
Another Top Ranking
On the "Top 50 Best Value Colleges" list released by The Princeton Review, Baruch places #1 in the Northeast and #4 nationally out of 209 schools. Baruch was recognized for its stellar academics, affordable cost, and strong career outcomes for graduates.
Student Notices
Diversity, Equity, and Inclusion
Baruch College is committed to promoting diversity, equity, and inclusion in classes and around campus and fostering a vibrant and welcoming community.