Professor's Research Makes Headlines
Chalkbeat, a premier news outlet covering education across America, featured Baruch Professor Geanne Belton's new research report: Haves and Have Nots: Newspaper Prevalence Among New York City Public High Schools. Funded in part by the Google News Initiative, the research uncovered wide disparities in access to newspaper programs by race, borough, and socioeconomic status. Read the coverage here.
Bearcats Honored as CUNYAC All-Stars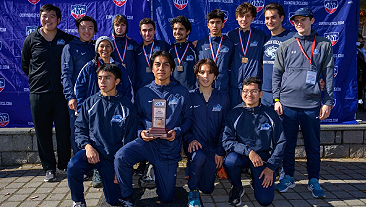 Congratulations to six student-athletes who are among the fall 2022 cross country all-stars named by the CUNY Athletic Conference. The six Bearcats finished in the top 15 individually at the CUNYAC Finals. Learn more on the athletics website.
Baruch Business Academy Model Expanding
Baruch College President S. David Wu (fifth from left) and Queensborough Community College President Christine Mangino (fourth from left), along with senior leadership from both colleges, met to discuss the launch of the QCC-Baruch College Business Academy. This expansion of the Baruch Business Academy will provide a clear, well-defined path for eligible QCC students who earn an Associate Degree in Business Administration to then transfer into the Bachelor of Business Administration program at Baruch's Zicklin School of Business.
Diversity, Equity, and Inclusion
Baruch is committed to fostering an environment that promotes diversity, equity, and inclusion and celebrates the community's rich, multicultural heritage. Read more about the College's efforts
DEI Fridays
The Baruch College community is invited to attend DEI Fridays, a series of virtual sessions presented by the Marxe School DEI Committee. Visit their website to view the complete list of events, browse resources, and more.