New Exhibit at Mishkin Gallery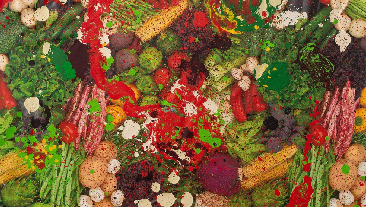 What Is Psychedelic, co-presented by Mishkin Gallery and Pioneer Works, marks the first institutional survey of New York-born artist Aura Rosenberg. This two-venue exhibition traces the artist's trajectory from early paintings of the 1970s to her more recent endeavors in photography, film, sculpture, and installation. (Aura Rosenberg, ​​Aux Enfants de la Chance, 2022. Photo courtesy of the artist).
Bearcat Food Pantry Opens
Baruch President S. David Wu cuts the ribbon to mark the grand opening of the College's Bearcat Food Pantry with (from left to right) Linda Essig, Provost and Senior Vice President for Academic Affairs, Carroll and Milton Petrie Foundation's Executive Director Cass Conrad and former Executive Director Beth Lief, and Laiba Hussain, President of Baruch's Undergraduate Student Government.
Starr Program Helps Students Become Career-Ready
More than 200 Bearcats refreshed their wardrobe—at no cost—for job interviews, career fairs, internships, and networking events at Suit Up For Success, an annual program hosted by the Starr Career Development Center.