Bloomberg Philanthropies Names Baruch a "High-Flier"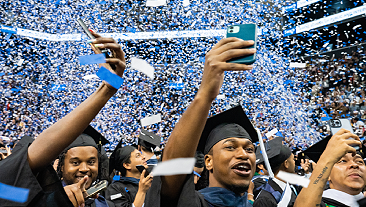 Baruch College has been named an American Talent Initiative (ATI) High-Flier, one of only 28 high-graduation-rate institutions that are national leaders in college access and success for lower-income students.
Baruch Business Academy Continues to Expand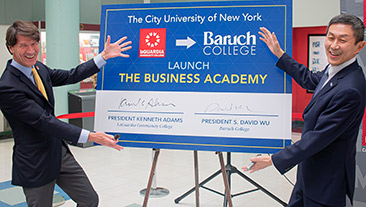 Baruch College President S. David Wu and LaGuardia Community College President Kenneth Adams (left) celebrate the launch of the LAGCC-Baruch Business Academy, an innovative approach to make top-notch business education accessible by preparing students academically and psychologically to succeed.
Another Top Ranking
On the "Top 50 Best Value Colleges" list released by The Princeton Review, Baruch places #1 in the Northeast and #4 nationally out of 209 schools. Baruch was recognized for its stellar academics, affordable cost, and strong career outcomes for graduates.
Student Notices
Diversity, Equity, and Inclusion
Baruch College is committed to promoting diversity, equity, and inclusion in classes and around campus and fostering a vibrant and welcoming community.