Baruch College Graduate Earns Prestigious Jonas E. Salk Scholarship
Coveted scholarship recognizes those who are likely to make significant contributions to medicine and research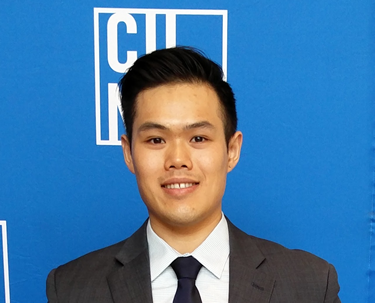 NEW YORK, NY- May 17, 2016 - Baruch College graduate Allen Ko'13 has received a Jonas E. Salk Scholarship to study medicine at the Eastern Virginia Medical School. The Salk Scholarships are awarded annually to only eight graduates of the senior colleges of The City University of New York (CUNY) who have "demonstrated sound character, outstanding scholarship and the promise of significant contribution to medical research." Ko will receive a stipend of $8,000 to be appropriated over three or four years to help defray medical school costs.
"The Salk scholarship represents the most prestigious award I could receive from CUNY for the recognition of my undergraduate career at Baruch," says Ko who earned a Bachelor of Arts degree in Biological Sciences and graduated Magna Cum Laude and with Honors in Chemistry.
After completing a Master's Degree in Nutrition Science at the Institute of Human Nutrition - Columbia University Medical Center in July, Ko will head to Eastern Virginia Medical School in Norfolk, VA where he will begin the Medical Doctor (MD) program.
Ko is a graduate student researcher at the Department of Molecular Therapeutics at the New York State Psychiatric Institute where his project focuses on the impact of dopamine on Wnt signaling in pancreatic beta cells. He's also been working at Baruch College as a Chemistry Adjunct Lecturer since graduating from the College in 2013.
"I learned about Baruch College's science program from one of the instructors who taught the summer "College Now" course that I took during my junior year of high school," says Ko. "I had always known I wanted to pursue science and Baruch offered the convenience of closeness to my family and also an affordable college education. Although the science program at Baruch is small, knowing everyone on a personal level offered a much more enriching experience than can be offered at larger institutions."
Created by the Board of Estimate of the City of New York in 1955 to honor the City College graduate who developed the first anti-polio vaccine, the Jonas Salk scholarships are awarded annually to eight graduates of the CUNY senior colleges. The scholarships are awarded to students who have been accepted to a U.S. medical school and have performed scientific research as an undergraduate. The students' research papers are reviewed and recipients are selected for their potential to make significant contributions to medical research. The winners receive a total of $8,000 ($2,000 per year for four-year medical schools to help defray the cost of medical school).
###