Abraham Briloff, Baruch Legend and Accounting Giant, Celebrates 90th Birthday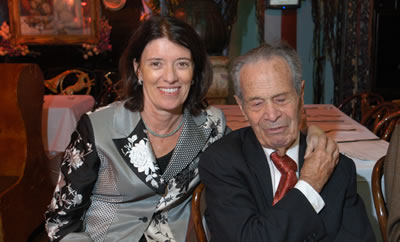 Baruch College's President Kathleen Waldron with legendary accounting professor Abraham Briloff
New York, NY – July 16, 2007– Abe Briloff ('37), Emanuel Saxe Distinguished Professor of Accountancy emeritus at Baruch College, celebrated his 90th birthday on July 19, 2007. The entire accounting profession should stand at attention and salute.
Briloff, who lives in Great Neck, New York, has been called "the most famous accountant in the world" and "the philosopher-king" of his profession. He has been an inspiration and a moral beacon to generations of students and practitioners. In the 1990's, he was among the very first to sound the alarm over self-serving and corrupt practices that damaged the integrity of accountancy, helped spawn the Enron debacle, and led, ultimately, to the reforms of the Sarbanes-Oxley Act.
Abe Briloff has been a part of Baruch College since the 1930s when he was the prize pupil of the revered Emanuel Saxe. Briloff received his BBA in 1937 and was first appointed to the faculty full time in 1944. In 1976 Briloff was named Emanuel Saxe Distinguished Professor of Accountancy. He officially retired from Baruch's Stan Ross Department of Accountancy in 1987, but it was a retirement in name only. His writing and speaking continued and continues unabated; if anything, he became more active and more productive in his so-called retirement years.
Kathleen Waldron, president of Baruch College, recently said, "Abe Briloff is an institution. He continues to meet and speak with Baruch students, inspiring them to be critical thinkers grounded in factual analysis. He is an extraordinary man, teacher, accountant, and friend."
As his birthday approached, Briloff said, "My 90th birthday takes on particular significance because it corresponds with the 70th anniversary of my graduation from the City College School of Business. I came to the College in 1934 as a boy from across the bridge in Williamsburg, Brooklyn, to study accountancy, which in those days meant journeyman bookkeeping. Then through the College and my mentor Emanuel Saxe, the universe of knowledge opened up to me."
During his long and fruitful career, Professor Briloff has authored several books and countless articles in scholarly and professional journals. His most important works include Effectiveness of Accounting Communication (1967), Unaccountable Accounting (1972), More Debits Than Credits: The Burnt Investors Guide to Financial Statements (1976), and The Truth About Corporate Accounting (1981).
His writings address a broad range of constituencies, including the educational, financial, and legal communities. The New York Times, the Wall Street Journal, and Barron's have frequently cited his work. Newman Library Assistant Professors Rita Ormsby and Eric Neubacher, along with Professor of Accountancy Tony Tinker, are in the process of digitalizing Briloff's important articles. Along with videotaped interviews and commentaries, these will become part of a Virtual Abe archive that will preserve his work and legacy for the ages, while making it accessible to scholars the world over.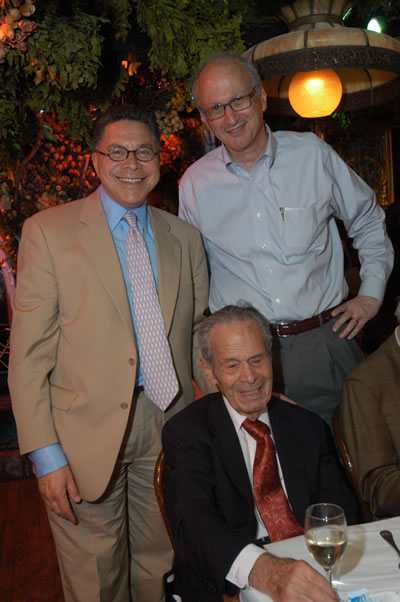 Accounting professor Abe Briloff with former students Arthur Ainsberg and Charles Dreifus.
Charles R. Dreifus ('66, MBA '73) is one of the very many students whose careers and values were shaped by their great teacher Abraham Briloff. In 1996, to honor his friend and mentor, Dreifus was instrumental in creating the Abraham J. Briloff Prizes in Business Ethics. Since then, each year the Briloff Prize is bestowed on two students—one graduate, one undergraduate—and one faculty member who have produced books, articles, or essays that best exemplify the ethical issues that have concerned Abe Briloff throughout his life.
"He was—and is—my mentor," said Dreifus. "I owe a lot to him. He showed me a path for interpreting financial statements. Abe brought it to life vividly and dramatically." Dreifus noted that Briloff's contributions go far beyond conventional classroom lessons. "He has steadfastly asked accountants to hold themselves to higher standards," he said.
David B. Saxe, associate justice, New York State Supreme Court, Appellate Division, First Department, and adjunct professor of law at Baruch College (and son of the late Dean Emanuel Saxe), said, "Abe Briloff is perhaps the most distinguished public accountant of the 20th century and beyond. By virtue of his intellect, rectitude, and pursuit of lasting reforms in the public interest, Abe has transformed the profession of public accountancy."
According to Baruch College Fund President Emeritus Eli Mason, "Dr. Briloff has taught thousands of students at Baruch, and they remember his incisive instruction."
Though he is 90 years old and clinically blind, the remarkable Abraham J. Briloff continues to speak and write, publishing his observations regularly in Accounting Today and other periodicals. He never tires of reminding colleagues and his critics alike that the health of the free market economy depends on the integrity of its financial statements.
Baruch College, the alma mater that gave him intellectual life and sustenance, is never far from Professor Briloff's thoughts. A generous donor to The Baruch College Fund, he seldom speaks publicly without acknowledging his debt to and affection for Baruch. From the long-ago days of the Depression when Emanuel Saxe hired him, then a lowly sophomore, to do probate research for the princely sum of $6 a week, to the present, Baruch College has been both his home and his launching pad into the public arena.
Contact: Warren Schultz, Publicity Director, Baruch College, (646) 660-6124, or Lara Moon, Baruch College, Communications and Marketing, (646) 660-6093.