Baruch College Students Take 1st, 2nd, and 3rd Place in 2016 Traders@MIT Fall Intercollegiate Trading Competition
The Largest Trading Competition of its Size in the Country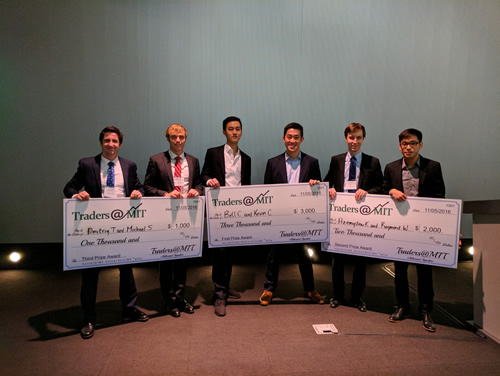 (L-R) Dmitriy Treyger, Mike Szczepankiewicz, Bell Chen, Kevin Cheng, Lirek Kulik, and Raymond Wong
NEW YORK, NY - November 16, 2016 - Six undergraduate students from Baruch College won 1st, 2nd, and 3rd place at the 9th annual Traders@MIT Fall Intercollegiate Trading Competition - the largest trading competition of its kind in the country. Baruch's students numbered among the more than 100 undergraduate students, grouped into 48 teams, and representing 12 universities: MIT, Harvard, University of Pennsylvania, Princeton, Yale, Columbia, Cornell, UChicago, Wellesley, NYU, Boston University, and Baruch College. 
Bell Chen and Kevin Cheng (1st place team), Raymond Wong and Lirek Kulik (2nd place team), Dmitriy Treyger and Mike Szczepankiewicz (3rd place team) took home the top honors. The Baruch teams were successfully led and coached by Professor Jarrod Pickens, who also led students in the Master's of Financial Engineering Program (MFE) to their record-breaking success at the prestigious Rotman Trading Competition earlier this year.
"In this latest competition, our students showed excellent analytical and trading skills, self-discipline and consistency, and outstanding teamwork," said Dan Stefanica, director of the MFE program at the Weissman School of Arts and Sciences. "They executed to perfection a low risk - high reward strategy designed to maximize trading P&L with minimal variance."
This latest top placement continues Baruch College's winning trend at other highly competitive events held on a national level. Baruch took 2nd place in the University of Chicago's undergraduate trading competition in April and 2nd place at Traders@MIT last year among a similar company of schools.
Stefanica added, "This series of repeated successes demonstrates that Baruch College students are among the most talented trading minds in the country."
###
About Baruch College:
Baruch College is a senior college in the City University of New York (CUNY) with a total enrollment of more than 18,000 students, who represent 164 countries and speak more than 129 languages. Ranked among the top 15% of U.S. colleges and the No. 5 public regional university, Baruch College is regularly recognized as among the most ethnically diverse colleges in the country. As a public institution with a tradition of academic excellence, Baruch College offers accessibility and opportunity for students from every corner of New York City and from around the world. For more about Baruch College, go to http://www.baruch.cuny.edu/.
MEDIA CONTACTS:
Suzanne Bronski, (646) 660-6093, suzanne.bronski@baruch.cuny.edu 
Mercedes Sanchez, (646) 660-6112, mercedes.sanchez@baruch.cuny.edu