Baruch College Students Showcase Original Inventions at Design & Make Competition
NEW YORK, NY - December 8, 2015 - Innovative inventions designed and created by Baruch College students were showcased at the first-ever Design & Make Competition on December 3. The competition was run and supported by the Lawrence N. Field Center for Entrepreneurship with additional funding from Baruch College Student Technology Fees.
While the Field Center hosts several events throughout the academic year, this was the Center's first Maker Hub competition. Maker Hub is Baruch's makerspace, where students can design and fabricate using high technology - and low-technology - related materials such as 3D printers, Arduino, Cubelets, LittleBits, Legos and origami.
"One of the goals of Maker Hub has been to allow students the opportunity to learn, collaborate and express themselves," says Monica Dean, Administrative Director of the Lawrence N. Field Center for Entrepreneurship. "A competition is a great vehicle to give students the opportunity to challenge themselves and showcase their talents. This competition was a chance for our students to apply their imagination and education and use Maker Hub materials to create projects inspired by their experiences, interests and unique world perspectives."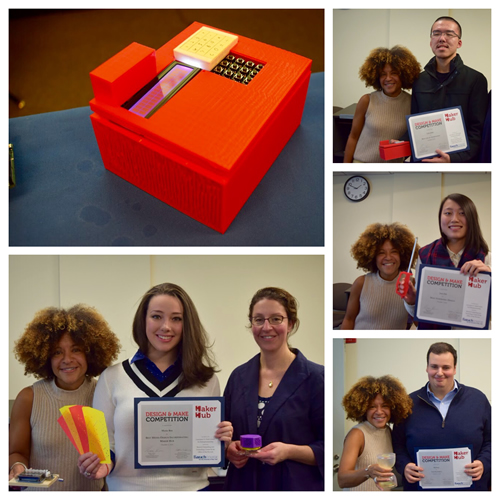 Out of the 49 students who registered, five won cash prizes and 13 people showcased their projects:
Best Use of Technology - Arduino Calculator. Yifan Hu '19, Financial Mathematics Major, and Auto Dispensary - Pablo Nogueira Grossi '15, Finance Major.
Most Surprising Design - Iron Fist. Xin Lin '18, Statistics Major.
Best Media Design Using Maker Hub Materials - Music Box. Kerianne O'Dwyer '16, Marketing Management Major.
Best Design and Fan Favorite - Barkeep. Avi Atkin '16, Computer Information Systems (CIS) Major.
Votes were cast on the Field Center's Facebook page, resulting in approximately 500 ballots.
According to Dean, the Center for Entrepreneurship will be hosting smaller design challenges during club hours. They will also sponsor a Design and Make Prize for Creative Inquiry Day in the spring.
The Field Center conducts demonstrations, hands-on 3D printing and Arduino workshops year-round in its Maker Hub programs. Maker Hub also receives support from the Office of the Provost Faculty Research Seminar grant.
###
About Baruch College:
Baruch College is a senior college in the City University of New York (CUNY)) with a total enrollment of more than 17,000 students, who represent 160 countries and speak more than 100 languages. Ranked among the top 15% of U.S. colleges and the No. 4 public regional university, Baruch College is regularly recognized as among the most ethnically diverse colleges in the country. As a public institution with a tradition of academic excellence, Baruch College offers accessibility and opportunity for students from every corner of New York City and from around the world. For more about Baruch College, go to http://www.baruch.cuny.edu/.
MEDIA CONTACTS:
Suzanne Bronski, (646) 660-6093, Suzanne.bronski@baruch.cuny.edu
Mercedes Sanchez, (646) 660-6112, mercedes.sanchez@baruch.cuny.edu
Evelisse Luciano, (646) 660-6134, evelisse.luciano@baruch.cuny.edu