Baruch College Distinguished Professor Earns Fulbright Distinguished Chair Award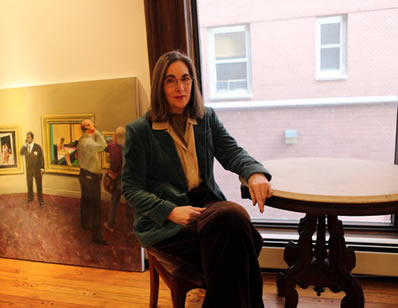 Gail Levin
NEW YORK, NY - March 3, 2016 - Baruch College Distinguished Professor Gail Levin earned a Fulbright Distinguished Chair Award for research in India. It was her third Fulbright award.
Levin, a Professor of Art History, American Studies, and Women Studies at the Weissman School of Arts and Sciences, just completed a four-month fellowship where she lectured across India on American art and conducted research on Indian art. She gave a lecture at the National Gallery of Modern Art on her original Fulbright Project, "The Influence of Indian Art and Culture on American Artists, from 1893 to the Present."
During her grant, Levin was based in Thiruvananthapuram, the capital of the state of Kerala in the south of India. While there, she met Sajitha Shankhar, the only living woman artist from South India represented in the permanent collection of the National Gallery of Modern Art. This chance encounter resulted in Levin researching and writing a draft for a book about Sajitha and making plans for an exhibition of her work in the U.S. Sajitha's work had earlier attracted the attention of the American playwright, Eve Ensler, who commissioned from Sajitha an installation in 2013 for her campaign, "One Billion Rising," which is the biggest mass action to end violence against women in human history.
Levin conducted her research and lectured at cultural centers, universities and art schools in Mumbai, Ahmedabad, Chandigarh, Delhi; Chennai; Trivandrum; and, Bangalore.
"What a great opportunity to represent my country and my culture and to have a window into Indian art and culture in all its diversity," said Levin. "The experience was fabulous! I met so many wonderful people. I loved the complexity of Indian culture and the range of art and crafts that I saw while traveling.
Levin also enjoyed some Baruch connections while in India.
"My husband and I stayed in Chandigarh with the family of one of my former Baruch students, Rattan Johal, who is now pursuing his doctorate in art history at Columbia University," said Levin. "We also stayed at the home of fellow Fulbrighter, my Baruch colleague, Professor emeritus of history, Veena Talwar Oldenburg, in Gurgaon outside of Delhi. Her work and conversation were very illuminating during my stay in India."
Levin has authored many books and articles and organized museum exhibitions that have traveled internationally. Her work has been published in more than a dozen countries, including essays in museum catalogues and such journals as American Art Review, Archives of American Art Journal, Arte y Parte (Spain), Art Journal, Art News, Arts Magazine, Art Research (Japan), Asian Art News (Hong Kong), Bijutsu Techo (Japan), Biography and Source Studies, BolaffiArte (Italy), Criticism, Dada and Surrealism, Du (Switzerland), Jong Holland (The Netherlands), Journal of Modern Jewish Studies (United Kingdom), Museum Studies, RACAR (Canada), Woman's Art Journal, Women in the Arts, and The Yale University Library Gazette. She has also written reviews and essays for such journals as The New York Times, London Review of Books, The Los Angeles Times, Art Journal, Latino (a) Research Review, and Smithsonian Magazine.
With the support of the United States government and through binational partnerships with foreign governments, the Fulbright Scholarship Program sponsors U.S. and foreign participants for exchanges in all areas of endeavor, including the sciences, business, academe, public service, government, and the arts and continues to increase mutual understanding between the people of the United States and the people of other countries.
About Baruch College:
Baruch College is a senior college in the City University of New York (CUNY) with a total enrollment of more than 18,000 students, who represent 160 countries and speak more than 100 languages. Ranked among the top 15% of U.S. colleges and the No. 4 public regional university, Baruch College is regularly recognized as among the most ethnically diverse colleges in the country. As a public institution with a tradition of academic excellence, Baruch College offers accessibility and opportunity for students from every corner of New York City and from around the world. For more about Baruch College, go to http://www.baruch.cuny.edu/.
MEDIA CONTACTS:
Suzanne Bronski, (646) 660-6093, Suzanne.bronski@baruch.cuny.edu
Mercedes Sanchez, (646) 660-6112, mercedes.sanchez@baruch.cuny.edu