Baruch College Professor Earns Fulbright Award for Art Research in Belgium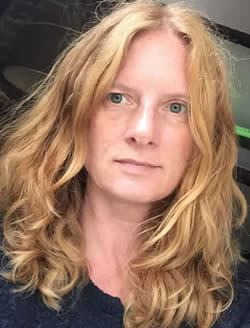 Professor Karen Shelby
NEW YORK, NY - April 12, 2016 - Baruch College Professor Karen Shelby earned a Fulbright-Terra Foundation Award to work at Ghent University in Belgium.
Shelby, an Assistant Professor at the Weissman School of Arts and Sciences, taught American Art History to European college students while also conducting research in support of her project, "Does Art of the U.S. Really Only Begin after WWII? American Art in Belgian Museums."
"It was a great honor and privilege to be selected to teach at the University of Ghent," said Shelby. "To teach and live in Ghent, one of the prominent centers of Western art history, was the opportunity of a lifetime. I was able to teach students eager to learn about modern art and New York City, continue research on a current book manuscript, and begin research on two new projects. Living in Flanders provided a new perspective on the diversity of Belgium in light of the language and cultural divide of the country."
In her publications, Shelby addresses the cultural politics of exhibition narratives of the war in museums along the Western Front; memorials and cemetery design; and the role of pilgrimage in First World War mourning practice. Shelby's book, Flemish Nationalism and the Great War: The Politics of Memory, Visual Culture and Commemoration was published by Palgrave Macmillan in 2014. A second book, History, Memory or Spectacle?: Museums of the Great War is in progress.
At Baruch, Shelby teaches the survey courses in art history as well as upper level courses in Nineteenth Century; Twentieth Century; Contemporary Art; Museum and Gallery Studies; The Art Market; The Histories of Photography; Asian Art and a Special Topics course on the relationship between art and war. She was the 2011/2012 recipient of the Whiting Award for Excellence in Teaching.
Shelby holds a M.A. from The Ohio State University with a concentration in Southeast Asian Buddhist Art and Architecture and a Ph.D. in art history from the Graduate and University Center of the City College of New York.
With the support of the United States government and through binational partnerships with foreign governments, the Fulbright Scholarship Program sponsors U.S. and foreign participants for exchanges in all areas of endeavor, including the sciences, business, academe, public service, government, and the arts and continues to increase mutual understanding between the people of the United States and the people of other countries.
###
About Baruch College:
Baruch College is a senior college in the City University of New York (CUNY) with a total enrollment of more than 18,000 students, who represent 164 countries and speak more than 129 languages. Ranked among the top 15% of U.S. colleges and the No. 4 public regional university, Baruch College is regularly recognized as among the most ethnically diverse colleges in the country. As a public institution with a tradition of academic excellence, Baruch College offers accessibility and opportunity for students from every corner of New York City and from around the world. For more about Baruch College, go to http://www.baruch.cuny.edu/.
MEDIA CONTACTS:
Suzanne Bronski, (646) 660-6093, suzanne.bronski@baruch.cuny.edu 
Mercedes Sanchez, (646) 660-6112, mercedes.sanchez@baruch.cuny.edu