Baruch College Students Present Startup Ideas at CUNY's Demo Day IV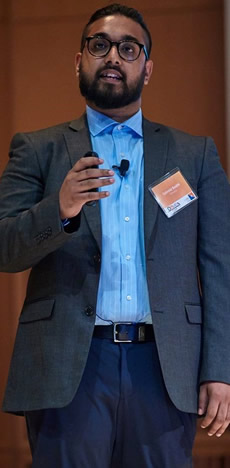 Steven Myint '17 Tahmid Bashir '16
NEW YORK, NY- June 15, 2016 - Six students from CUNY, including Steven Myint '17 and Tahmid Bashir '16 from Baruch College, presented their startup companies to a panel of judges and investors at the CUNY Center for Student Entrepreneurship's Demo Day IV on May 17.
Myint, an economics major who is also serving as a U.S. Marine sergeant, won the second place prize of $5,250 for his French toast-style peanut butter and jelly sandwich company, Not Your Average PB&J. Bashir, who graduated in May with a Bachelor's of Business Administration from the Zicklin School of Business, won $2,500 for Virlilast, a personal men's product.
"Winning the award at Demo Day encouraged me even more knowing others believe in my business," said Myint who is from Briarwood, Queens. "This benefits my business by giving me more flexibility to market and advertise my company and increase its brand recognition."
CUNY Students at Demo Day IV
The students presented their companies to an esteemed panel of experts including: Jason Leder and Michael Sondak from Google; Francesca Sterlacci, founder of the University of Fashion; Jeffrey Purvin of Nemaura Medical; and Nancy Chen, CEO of Ford Models. Opening remarks were made by CUNY Executive Vice Chancellor Allan H. Dobrin, Baruch College's Zicklin School of Business Dean H. Fenwick Huss, Academic Director of CSE Stuart Shulman, and Community Manager of CSE Faith Fraser.
The Center for Student Entrepreneurship is a university-wide initiative to help CUNY students start their own businesses, create jobs for students and stimulate small-business growth and economic development in New York City. The Center's Incubator offers a structured program in which CUNY students have access to resources geared toward helping them launch businesses.
###