Baruch College Ranked Among 50 Best Undergraduate Business Schools by College Choice
NEW YORK, NY - November 18, 2015 -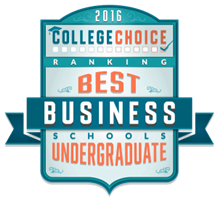 Baruch College has been ranked among the 50 Best Undergraduate Business Schools by College Choice in their first annual ranking of undergraduate business schools. Baruch ranked #47 on the list, which is based on factors actual college freshmen said were most important to their college decision: academic prestige, net cost, and average annual income for graduates.
"With our ranking of the best undergraduate business schools, we aimed to balance quality of education with best rate of return on investment, which is something that aspiring business leaders should appreciate," said Jeremy Alder, Managing Editor of College Choice.
The ranking and data was derived from a variety of publicly available sources, including U.S. News & World Report, the National Center for Education Statistics, and PayScale.com.
###
About Baruch College:
Baruch College is a senior college in the City University of New York (CUNY) with a total enrollment of more than 18,000 students, who represent 160 countries and speak more than 100 languages. Ranked among the top 15% of U.S. colleges and the No. 4 public regional university, Baruch College is regularly recognized as among the most ethnically diverse colleges in the country. As a public institution with a tradition of academic excellence, Baruch College offers accessibility and opportunity for students from every corner of New York City and from around the world. For more about Baruch College, go to http://www.baruch.cuny.edu/.
MEDIA CONTACTS:
Mercedes Sanchez, (646) 660-6112, mercedes.sanchez@baruch.cuny.edu
Evelisse Luciano, (646) 660-6134, evelisse.luciano@baruch.cuny.edu