Baruch College Ranked #3 Among Top 50 Best Value Colleges by Value Colleges
Ranking highlights Baruch as a best value for social mobility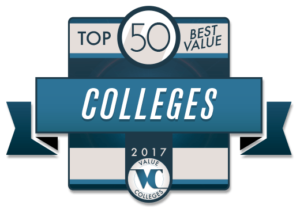 NEW YORK, NY- September 15, 2016 - Baruch College has been named a Top Value College by Value Colleges in their newly released ranking. Baruch ranked #3 in the Top 50 Best Value Colleges 2017, placing ahead of California State Polytechnic University, University of North Carolina - Chapel Hill, and University of California Berkeley.
Value Colleges cited Baruch as "one of the best-connected institutions in the city of New York, as well as one of the best values for social mobility." Baruch College was praised for its ability to provide a high-quality, low-cost education to students. "Baruch's combination of reasonable tuition and excellent career prospects have made it a trustworthy name for return on investments; graduates can count on a strong showing on the job market."
Baruch has consistently been recognized for providing an affordable education. This month, U.S. News & World Report ranked Baruch College #2 for Least Debt among Regional Universities in the North, and #3 when looking across all regional universities in the country. Recently, Washington Monthly named Baruch among the top ten "Best Bang for the Buck" schools. Earlier in the year, Baruch was also named as an institution that does the best at graduating low-income students in a report released by the U.S. Department of Education. 
For their rankings, Value Colleges uses College Scorecard to filter colleges at or below the national average cost, with a high graduation rate (better than 50%) and average graduate salary above the national average. From that initial list, over 250 colleges and universities were ranked by the following factors: ROI (according to Scorecard data), cost (according to IPEDS) and reputation (according to U.S. News & World Report).
MEDIA CONTACTS:
Suzanne Bronski, (646) 660-6093, suzanne.bronski@baruch.cuny.edu
Evelisse Luciano, (646) 660-6134, evelisse.luciano@baruch.cuny.edu