Two Baruch College Faculty Win 2017 National Science Foundation CAREER Awards

Louis-Pierre Arguin and Jean P. Gaffney, Assistant Professors at the Weissman School of the Arts and Sciences, Honored with Prestigious NSF Early Faculty Development Grants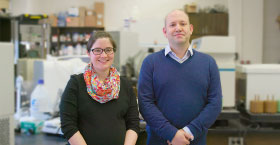 Dr. Jean Gaffney and Dr. Louis-Pierre receive nearly $1.2 million collectively in National Science Foundation Faculty Early Career Development Grants
New York, NY, April 20, 2017 - Two Baruch College assistant professors—Dr. Louis-Pierre Arguin and Dr. Jean P. Gaffney—were awarded National Science Foundation (NSF) Faculty Early Career Development grants, for $446,000 and $637,000 respectively, to support their research projects for the next five years. Arguin and Gaffney are both faculty members at the College's Weissman School of Arts and Sciences (WSAS).
This year marks the first time that faculty members at Baruch College were selected for this highly respected and extremely competitive grant.
Known as CAREER awards, the five-year grants support "junior faculty who exemplify the role of teacher-scholars through outstanding research, excellent education, and the integration of education and research within the context of the mission of their organizations."
For Dr. Aldemaro Romero, Dean of WSAS, the news of not one—but two—professors receiving the grants awards was nothing short of extraordinary.
"At the Weissman School of Arts and Sciences, we feel extremely pleased that two of our junior faculty members have received such a prestigious award during the same year," said Dean Romero. "We are particularly happy to see that these awards will enhance the integration of pedagogical pursuits with research."
According to Dominic Esposito, Baruch College's Director of Sponsored Programs and Research, the CAREER grants are highly coveted. Approximately 2,900 proposals were submitted to the NSF and 18% were awarded this year. By being selected, Arguin and Gaffney serve as CAREER Principal Investigators (PIs), which recognize them as teacher-scholars who conduct research and then integrate it into their classes, thereby providing students with essential skills and knowledge they can apply to graduate studies or careers in research and industry.
Louis-Pierre Arguin
Teaching in the Department of Mathematics, Arguin's project is a rigorous study of the fundamental patterns that arise in a wide range of complex systems, such as data science, finance, computer science, condensed matter physics, and pure mathematics.
The study, entitled Statistics of Extrema of Complex and Disordered Systems, will focus on the behavior of these systems, which depend on rare events known as extrema, that may have a large impact of their dynamics. The aim is to develop general quantitative methods to understand the statistics of extrema of these systems and to draw new connections with related problems in mathematics and physics.
For Arguin, the focus in on universal patterns and understanding the variables.
Dean Romero noted that Arguin, despite his youth, is an already accomplished researcher. The NSF had previously supported his work on the theory of stochastic processes, which originated in part in the study of the random motion of particles in a fluid.
"This is a type of research that was pioneered by Albert Einstein for which he received a Nobel Prize and that has multiple applications in physics and biology," said Dean Romero.
Hooked on Mathematics by Age 17
Arguin, who was born in northern Quebec where winter temperatures typically fall to -30F, grew up in Quebec City. Ever since he can remember, mathematics was a fascinating subject.
"I started getting hooked at the age of seventeen where I had a passionate teacher who showed me that mathematics was more than just long computations with numbers," said Arguin. "There is a real beauty in how theories are built in mathematics."
He added, "They are, in some sense, cathedrals of the mind. Unfortunately, it sometimes demands a lot of work and effort to be able to contemplate it. Still, it is the point of view that I try to transmit to students whenever I teach an undergraduate or graduate course."
Arguin earned his PhD from Princeton University in 2007. He then held research positions at the Courant Institute of Mathematical Sciences at New York University and at the Weierstrass Institute for Applied Analysis and Stochastics in Berlin. In 2011, Arguin became an assistant professor in the department of mathematics and statistics at the University of Montreal.
He joined the faculty of Baruch's WSAS and the CUNY Graduate Center in 2014. The following year, Arguin was awarded the André-Aisenstadt prize which recognizes a young Canadian mathematician's outstanding achievement in pure or applied mathematics.
Jean P. Gaffney
Gaffney, who teaches chemistry and biochemistry in the Department of Natural Sciences, will further her study and discovery of fluorescent proteins in marine fish. She anticipates that these proteins will be valuable tools for chemists and biologists.
A "Eureka!" moment in the lab played a large part in how Gaffney approaches teaching today.
Dean Romero, who noted that Gaffney is another talented member of Baruch's young faculty, pointed to the potential practical applications of her research.
"Jean's work on the discovery of new fluorescent proteins may lead to new tools for researchers in biology and chemistry. In addition, the award will provide for real-world examples to be taught in the classroom and for undergraduate students to be on the forefront of new research."
A college class sparked an interest in chemistry
Gaffney admits that she didn't enjoy her high school chemistry classes but college drastically changed that viewpoint.
"Originally, I was thinking of pre-med," said Gaffney. "But when I took an inorganic chemistry class, the topic just clicked and I loved it. The material was hard but the challenge made it more energizing when I succeeded in that class."
Gaffney became involved in research while studying for her BS degree in chemistry at Binghamton University. She later developed an interest in characterizing new proteins while working on a PhD at Yale University, which was completed in 2011.
Following her doctoral work, she completed a postdoctoral fellowship at the Weizmann Institute of Science, where she focused on understanding a class of enzymes implicated in cancer, known as the matrix metalloproteinases. Gaffney joined Baruch's WSAS faculty as an assistant professor in the fall of 2014.
Baruch Students to Benefit from NSF Grants
Both Arguin and Gaffney are excited that the five-year NSF grants will create rich opportunities for their students to learn, conduct research, and even foster collaborations outside of Baruch College.
Arguin explained that part of his project is to help develop the new math major, a BS in financial mathematics, by providing undergraduate research experience and by running a bi-weekly seminar on the application of probability in finance and data sciences. This seminar will be held in partnership with practitioners in academia and in the industry.
"The grant will give me the means to expand my research program to include more undergraduate and graduate students and to be actively involved in the probability community at an international level," said Arguin.
Gaffney noted that the grant will fund a cutting-edge research program in biochemical research at Baruch College.
"The NSF grant is extremely important for our students," Gaffney said. "With this new program, students will have exciting opportunities to discover new proteins and to collaborate with other scientists at Baruch College as well as at other universities."
# # #