Baruch College Student Wins Jeannette K. Watson Fellowship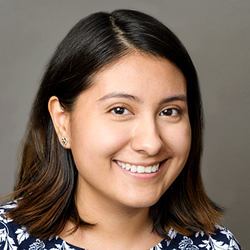 New York, NY - April 5, 2017 - Stephanie Luna ('19), a student at the Weismann School of Arts and Sciences at Baruch College, was awarded the Jeannette K. Watson Fellowship.
The Watson Fellowship, an innovative three-year program, provides outstanding undergraduates from 12 New York City colleges with personal, professional, and cultural immersions in the U.S. and abroad. At the center of the program are paid summer internships at leading nonprofit, government and private enterprise organizations in New York City and around the world.
A first generation college student, Luna is the third Baruch College student in the last three years to win a Watson Fellowship.
"I feel that the fellowship's combination of internships, mentorship, and the emphasis on interacting and participating in this urban space we live in would allow me to not only keep exploring my interdisciplinary interests, but also find the connections within the fields I want to study," said Luna. "And, it will help me with developing my future endeavors."
Luna added that the Watson Fellowship "will support me as I step out of my comfort zone to discover the relationship between my interests and career possibilities, and give me the opportunity to be part of a community in which I can help my peers with their aspirations and we can empower each other."
At Baruch College, Luna plans to complete her degree in Sociology, focusing on urban life and institutions, along with a double minor in English and Graphic Design.
"My experience at Baruch inspired me to apply to the Jeannette K. Watson Fellowship," said Luna. "The support of my advisors and professors, as well as the interactive, hands-on elements of my classes have piqued my curiosity about New York City and social change in urban areas."
For information about the Jeannette K. Watson Fellowship, contact the Office of National and Prestigious Fellowships Advising.
About the Watson Foundation
In 1961, Jeannette K. Watson created the Thomas J. Watson Foundation in the name of her husband, Thomas J. Watson Sr, best known for building IBM. Through one-of-a-kind programs, the Foundation provides fellows with cultural, professional and personal opportunities that challenge them to expand their vision, test and develop their potential, and build the confidence and perspective to do so for others. In 2015, the Foundation organized as a public-facing organization, unifying its programs under the Watson Foundation.
###