Baruch Students Named Presidential Management Fellow Semi-Finalists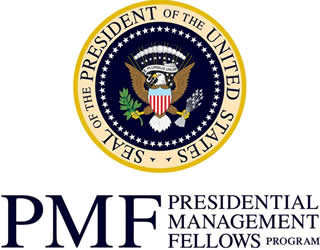 NEW YORK, NY - December 1, 2015 - Baruch College students Jenny Coronel '16, Zoraida Lira '16, Monique Marshall '16, Ryan Weemer '16 and alumna Elizabeth Ruiz '14 have been named Presidential Management Fellow Semi-Finalists. Baruch nabbed a record five positions among 679 Semi-Finalists chosen nationwide for the Presidential Management Fellows Program. This year's applicant pool represented over 300 colleges and universities with over 6,000 students from across the country applying for the prestigious fellowship.
Established in 1977, the Presidential Management Fellowship is the federal government's premier fellowship series for attracting top-level talent to federal service. The Presidential Management Fellowship gives candidates with advanced degrees in a variety of fields an opportunity to gain accelerated managerial experience within public policy agencies. The most promising candidates in the nation are selected from among rising and recent graduates of advanced degree programs, including master's degrees, the J.D. and the Ph.D. Successful applicants receive a two-year appointment within a federal agency chosen from a shortlist of participating offices. A selection of Semi-Finalists will advance to a Finalist round.
###
About Baruch College:
Baruch College is a senior college in the City University of New York (CUNY)) with a total enrollment of more than 17,000 students, who represent 160 countries and speak more than 100 languages. Ranked among the top 15% of U.S. colleges and the No. 4 public regional university, Baruch College is regularly recognized as among the most ethnically diverse colleges in the country. As a public institution with a tradition of academic excellence, Baruch College offers accessibility and opportunity for students from every corner of New York City and from around the world. For more about Baruch College, go to http://www.baruch.cuny.edu/.
MEDIA CONTACTS:
Suzanne Bronski, (646) 660-6093, Suzanne.bronski@baruch.cuny.edu
Mercedes Sanchez, (646) 660-6112, mercedes.sanchez@baruch.cuny.edu
Evelisse Luciano, (646) 660-6134, evelisse.luciano@baruch.cuny.edu