Baruch Student Wins National Collegiate Honors Council's 2016 Conference Logo Design Competition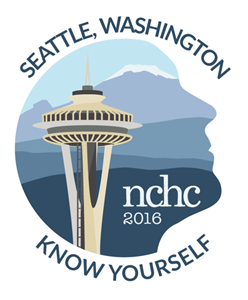 NEW YORK, NY - December 10, 2015 - Baruch College Macaulay Honors scholar Christina Young '18, has been named the winner of the National Collegiate Honors Council's (NCHC) 2016 Annual Conference logo design contest. As student creator of the winning logo, Christina will receive a cash prize of $500 ($250 to the Student and $250 to the honors program), complimentary registration to the 2016 Conference, and recognition in the conference program.
Student designers were asked to incorporate the conference's location of Seattle, Washington as well as the conference theme into their design. "What intrigued me the most about this logo concept was the theme of 'Know Yourself.'" said Christina Young, who is studying both graphic and web design through the CUNY BA Program. "Inspired by the theme's connection at the personal level, in relation to NCHC and education, and in relation to Seattle, I created a face looking out to express the idea of not only looking inward (within yourself), but also outward, to discover what makes you who you are."
Christina Young also founded Design MHC, a project which seeks to rebrand Macaulay clubs through new logos, Facebook imagery (cover photos and profile pictures), and other platforms. "By changing what is likely the first thing we see as students, faculty, and even professionals, these clubs can introduce themselves with images that embody who they are, what they do, and why they do it."
###
About Baruch College:
Baruch College is a senior college in the City University of New York (CUNY)) with a total enrollment of more than 17,000 students, who represent 160 countries and speak more than 100 languages. Ranked among the top 15% of U.S. colleges and the No. 4 public regional university, Baruch College is regularly recognized as among the most ethnically diverse colleges in the country. As a public institution with a tradition of academic excellence, Baruch College offers accessibility and opportunity for students from every corner of New York City and from around the world. For more about Baruch College, go to http://www.baruch.cuny.edu/.
MEDIA CONTACTS:
Suzanne Bronski, (646) 660-6093, Suzanne.bronski@baruch.cuny.edu
Mercedes Sanchez, (646) 660-6112, mercedes.sanchez@baruch.cuny.edu
Evelisse Luciano, (646) 660-6134, evelisse.luciano@baruch.cuny.edu