Baruch College Student Wins NYC Urban Fellows and CUNY Edward T. Rogowsky Internship

Two Coveted Opportunities Focusing on Government and Public Service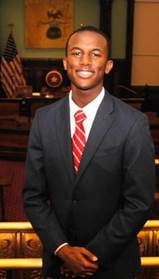 New York, NY - April 19, 2017 - Jibreel Jalloh ('17), of Baruch College's Weissman School of Arts and Sciences, has been awarded both a NYC Urban Fellowship, and a CUNY Edward T. Rogowsky (ETR) Internship in Government and Public Affairs in Washington, D.C., for the 2017-18 academic school year.
A premier training program in city government, the Urban Fellows Program is a highly selective, nine-month fellowship which combines work in mayoral offices and city agencies with volunteer service opportunities. It also includes a seminar series that explores current urban issues impacting public policy. The competitive Washington, D.C.-based CUNY ETR internship places selected students to work in the offices of U.S. Representatives and Senators, congressional committees, federal agencies, and at a variety of national and international non-governmental organizations.
"Both of these programs will allow me to build upon my experiences in the city, state and federal legislature," said Jalloh, who previously held internship positions at the U.S. House of Representatives, New York City Council, and Office of the Mayor, Community Affair Unit. He also served as a Legislative Session Assistant in the New York State Assembly in Albany last spring.
Jalloh added, "The Urban Fellows program will help me understand what happens after the bills are signed into law and the budgets are passed. I'll see the day-to-day interactions between agencies and the people they serve, and how different stakeholders interact with policy implementation and allocations of grants and funds. CUNY ETR will allow me to solidify the interpersonal and analytical skills I built while working on the Hill last summer."
For Jalloh, his Baruch undergraduate experience has been the starting point for a keen interest in public service. As the leader of multiple clubs on campus, including SEEK (Search for Education, Elevation, and Knowledge) Society, Urban Male Leadership Academy and the Black Student Union, he discovered a passion for public service and "organizing events around things that mattered."
"I was born and raised in Brooklyn, and both of my parents emigrated from Sierra Leone. I grew up watching my dad work 90 hours a week as a taxi driver, while my mom worked tirelessly to make ends meet. At nine years old I was sent to Africa. It was an extraordinary experience. It helped me view the world through a different lens," said Jalloh. "Those two different experiences growing up played a huge role in my personal perspective and development. Fast-forward a few years, I graduated high school, got accepted into Baruch, and became a first-generation college student."
After acknowledging support from his family, mentors, SEEK and guidance from the Office of National & Prestigious Fellowships Advising, Jalloh is already mapping out his next career move. After a few years of working, he plans to obtain a JD degree, and also mentor students who come from underserved neighborhoods.
"My goal is to leave my community a better place than I found it and work on such critical policy areas as gun laws, and the social cost of economic growth," said Jalloh. "I hope to gain the tools and skills to be a better public servant, and I know these two extraordinary opportunities will provide an amazing jumpstart to my career."
###