Baruch College Student Gui Ming Jiang Earns Prestigious Freeman Award for Study in Asia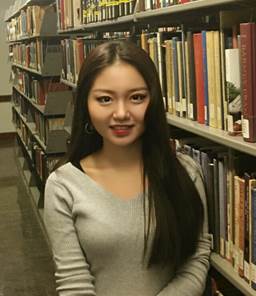 New York, NY- December 7, 2016 - Gui Ming Jiang ('18), a junior at Baruch College's Zicklin School of Business, has been awarded the nationally prestigious and competitive Freeman Award for Study in Asia (Freeman-ASIA) to study abroad in Hong Kong.
Jiang, who will receive her BBA degree in 2018, has chosen to spend the spring 2017 semester at the City University of Hong Kong, which is an international exchange partner with Baruch College and CUNY. The City University of Hong Kong has been recognized as a global center of business, science and engineering, and social science programs and research. She plans to continue her studies in finance and expand her knowledge of global banking, specifically the Hong Kong markets, in preparation for a career in global finance.
"I am excited to receive the Freeman-ASIA scholarship," said Jiang upon learning of her award. "I am grateful for the wonderful opportunity to study abroad. It allows me to concentrate on my studies in finance." In addition to gaining an understanding of global banking and finance, Ming plans to use her time in Hong Kong to master Cantonese and learn more about the culture of the various communities in the city.
"Studying abroad in Hong Kong will expose me to an environment with many different languages and multicultural communities," stated Jiang. "It will help shape my academic, personal, and professional development."
Jiang was encouraged to apply for the Freeman-ASIA scholarship by Christopher Tingue, associate director of Baruch's Study Abroad Office, and she worked closely with Valeria Hymas, deputy director of the Office of National Fellowships Advising, to make her application as competitive as possible.
The Freeman-ASIA scholarships, which are administered by the Institute of International Education, are designed to financially support undergraduates who are planning to study overseas in East or Southeast Asia. The program's goal is to increase the number of U.S. citizens and permanent residents with first-hand exposure to and understanding of Asia and its peoples and cultures.
Award recipients are required to share their experiences with their home campuses or communities to encourage study abroad by others and fulfill the program's goal of increasing understanding of Asia in the United States.
From its inception in 2001, Freeman-ASIA has made study abroad in East and Southeast Asia possible for over 4,600 U.S. undergraduates from more than 600 institutions.
###