Baruch College Students Win Big at Annual CUNY-Wide Competition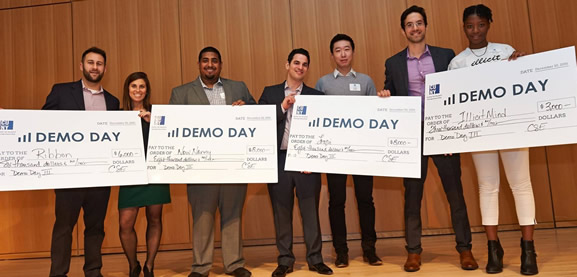 Baruch students sweep CUNY Demo Day winning $25,000 in prizes.
NEW YORK, NY - December 17, 2015 - Five Baruch College students, recognized as bold and bright startup thinkers by the CUNY Center for Student Entrepreneurship, pitched their creative business ideas for a chance to win up to $25,000 during the Center's Demo Day on December 10. The Baruch student entrepreneurs, Georgie Ann-Getton, Amit Golan, Max Klaben, Aviv Meital, and Ismael Mercado, had been selected as the top finalists for the bi-annual event that occurs after five months of launching or scaling their businesses in CSE's Incubator.
Held in front of a live audience, the competition opened with remarks by Allan Dobrin, executive vice chancellor & COO at CUNY, and Lou Anne Flanders-Stec, executive director of CUNY Center for Student Entrepreneurship.
The student entrepreneurs presented their business ideas and fielded questions from the panel of judges that included Deborah Chang, co-founder, Nexus Works; Jason Leder, partner lead of VC's & Startups, Google; Francesca Sterlacci, founder & CEO, University of Fashion Inc.; and Jeff Purvin, chairman of the board, University of Fashion Inc.
After deliberating, the judges announced the winners as follows:
First Place (winner of $8,000): Ismael Mercado, Now Nanny, an easy-to-book, on-demand childcare service that provides well-vetted nannies.
First Place (winner of $8,000): Amit Golan and Aviv Meital, LOOPi, a crowd-sourcing platform that facilitates on-demand tutoring.
Second Place (winner of $6,000): Max Klaben, Ribbon, a free gift recommendation service through SMS that helps clients find the perfect gift.
Third Place (winner of $3,000): Georgie Ann-Getton, Illicit Mind, a membership-based networking service focused on elevating peer groups in order to increase client short-term and long-term success in life and business.
###
About Baruch College:
Baruch College is a senior college in the City University of New York (CUNY)) with a total enrollment of more than 17,000 students, who represent 160 countries and speak more than 100 languages. Ranked among the top 15% of U.S. colleges and the No. 4 public regional university, Baruch College is regularly recognized as among the most ethnically diverse colleges in the country. As a public institution with a tradition of academic excellence, Baruch College offers accessibility and opportunity for students from every corner of New York City and from around the world. For more about Baruch College, go to http://www.baruch.cuny.edu/.
MEDIA CONTACTS:
Suzanne Bronski, (646) 660-6093, Suzanne.bronski@baruch.cuny.edu
Mercedes Sanchez, (646) 660-6112, mercedes.sanchez@baruch.cuny.edu
Evelisse Luciano, (646) 660-6134, evelisse.luciano@baruch.cuny.edu