Baruch College Announces 2016 Valedictorian and Salutatorian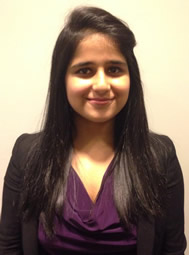 From Left: Natan Wise and Maham Khan
NEW YORK, NY- May 23, 2016-Baruch College announced today that Natan Wise and Maham Khan are this year's Valedictorian and Salutatorian, respectively. The students will join their fellow graduates for the 2016 Commencement Ceremony on May 27, 2016 at the Barclays Center in Brooklyn, NY.
Valedictorian Natan Wise, a student in the Macaulay Honors College, is receiving a BBA in Finance with a minor in New York City Studies. As a student at Baruch, Wise was involved in two finance co-curricular organizations on campus - the Investment Management Group and the Financial Leadership Program. In fall 2015, Wise studied abroad at Charles University in Prague, the oldest and largest university in the Czech Republic and was awarded the Hugh Lamle Scholarship in his senior year. He spent last summer as an intern at J.P. Morgan's Investment Bank as part of the Mergers and Acquisitions group. Upon graduation, Wise will be returning to that department as a full-time employee.
Reflecting upon his undergraduate experience, Wise notes Baruch College's strong alumni network. "To be a graduate of Baruch means to proudly join the far-reaching alumni community that exists all across New York City and beyond," said Wise. "Baruch alumni across different generations share a deep bond over their affinity for the school and the memories they've had here. I'm excited to join this community, and to continue to interact with the school even as a graduate."
Salutatorian Maham Khan is also a Macaulay Honors College student and will be graduating with a BBA in Economics. Four years ago, she came to New York City as an international student from Islamabad, Pakistan. In the fall of 2015, Khan studied abroad at the Copenhagen Business School in Denmark. After graduation, Khan will be working as an analyst in J.P. Morgan's Treasury Services program. Upon completing the firm's program, Khan intends to attend law school and to pursue a career in immigration law.
For Khan, Baruch College not only provided a quality education but also an opportunity for personal growth. "Baruch College has completely transformed me as a person. I came to New York not knowing anyone and now, four years later, Baruch has provided me with a network of people I will stay connected with for life," Khan said. "In the beginning, it was hard for me to adjust in the new culture but Baruch made the transition really easy for me and taught me how to be adaptable and independent. I am thankful to all my friends and peers who always inspired me to strive for my dreams."
Wise and Khan join the over 5,700 students who are receiving their undergraduate, graduate and PhD degrees from Baruch College.
###
About Baruch College:
Baruch College is a senior college in the City University of New York (CUNY) with a total enrollment of more than 18,000 students, who represent 164 countries and speak more than 129 languages. Ranked among the top 15% of U.S. colleges and the No. 4 public regional university, Baruch College is regularly recognized as among the most ethnically diverse colleges in the country. As a public institution with a tradition of academic excellence, Baruch College offers accessibility and opportunity for students from every corner of New York City and from around the world. For more about Baruch College, go to http://www.baruch.cuny.edu/.
MEDIA CONTACTS:
Suzanne Bronski, (646) 660-6093, Suzanne.bronski@baruch.cuny.edu
Evelisse Luciano, (646) 660-6134, Evelisse.luciano@baruch.cuny.edu