Baruch College Ranked Among the "50 Best Value Bachelor's in Business Degree Programs 2017"

#13 from a Pool of 300 Schools with Above Average Reputations According to U.S. News and World Report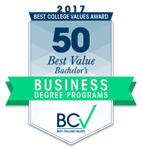 NEW YORK, NY -March 28, 2017-  Baruch College has been ranked #13 by Best College Values from a pool of 300 regionally accredited higher education institutions with above average reputations according to U.S. News and World Report. Best College Values is a website that ranks higher education degrees by considering their quality and affordability,
Zicklin School of Business: Prepares Students for Careers in all Phases of Business
In its description of Baruch College, Best College Value notes that "The Zicklin School of Business is the largest collegiate school of business in the nation and is considered one of the nation's best schools of business. The Zicklin Undergraduate Programs prepare students for careers in all phases of business. These programs are designed to provide students with the specialized knowledge they need for entry into the work force along with the analytical and communication skills essential for a successful career."
It adds that "the curriculum exposes students to ethical values that encourage participation in community affairs, and to an awareness of the relationship between business and the legal, political, and social settings in which it functions. One of the particular advantages for Zicklin undergraduates is that they are able to study within the context of a very diverse student community. This diversity prepares them to understand and function effectively in today's multicultural global business environment."
Methodology:
According to Best College Values, the colleges and universities were ranked "according to a weighted methodology of aggregated publicly available data that produces an overall score of 1 to 100. Data was drawn from sources such as U.S. News scores, tuition rates, return on investment according to Payscale.com, graduation rates, and cohort default rates.
# # #