Three Baruch Students Awarded Gilman Scholarships to Study in Ghana, China and Japan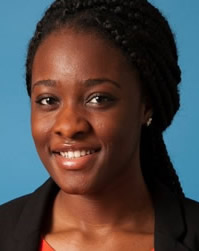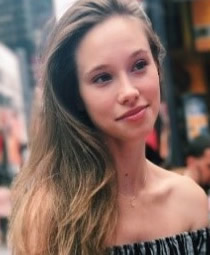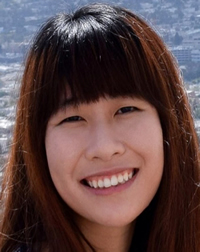 From Left: Simbiat Akanni, Vitoria Waterkemper, Michelle Wu
Baruch College students Simbiat Akanni '18, Vitoria Waterkemper '19, and Michelle Wu '19 were selected to receive the prestigious Benjamin A. Gilman International Scholarship to study abroad for an upcoming semester. All from the Zicklin School of Business, the three award recipients will use their scholarship funds to study in Ghana, China and Japan, respectively.
The Gilman Scholarship, named after former Congressman Benjamin A. Gilman of New York, is sponsored by the U.S. Department of State's Bureau of Educational and Cultural Affairs, and grants awards up to $5,000 to apply towards study abroad or internship program costs.
Akanni received $3,000, while Waterkemper and Wu were each awarded $8,000, with the extra funding coming from Gilman's Critical Need Language Award. This additional award is offered to a limited number of Gilman Scholars each year who are studying critical-need languages.
"The Spring 2018 Gilman awardees clearly demonstrate how Baruch students have the talent and ambition to be emerging global leaders," said Valeria L. Hymas, Deputy Director of the College's National and Prestigious Fellowships Advising. "Through this intensive study abroad experience, they will build lasting relationships with their host communities, and learn life-long cultural competency skills that will make them even more competitive when they begin their professional careers."
Ghana: Opportunity to Create Change
Akanni, an Entrepreneurship Management major who previously lived in Nigeria for seven years, is excited about returning to West Africa during the Winter 2018 semester and revisiting this culture as an adult.
"I chose to study in Ghana because their education system is unique," Akanni explained. "My long-term career goals include further implementing financial literacy into America's education system. This experience will not only allow me to reflect on the issue at hand, but will also enable me to personalize the issue that the people in my community face and struggle with the most. By doing this, it will create the opportunity for me to adequately adhere to the needs of my community and to also effectively create the change I aspire to see in the world. The Gilman scholarship provided me with an opportunity I would have otherwise not been able to afford."
China: A Path toward Future Goals
Waterkemper, who is an international business major, views the scholarship as both a learning experience but also integral to her career goals.
"I believe my semester abroad will be a crucial step in the path towards my future goals and I would not have been able to pursue this opportunity without the Gilman Scholarship" said Waterkemper, who hopes to pursue a career in finance and work at a multinational corporation which has a presence in China. "The application process required a lot of work but was definitely worth it! Since this will be my first time studying abroad, I am looking forward to learning a new language, immersing myself in Chinese culture and visiting new places."
When choosing where to study abroad for the Spring 2018 semester, Waterkemper wanted an experience where she would be challenged. "Since China is completely unknown to me, I felt it was the one country where I would have to rely on my abilities. I believe living there for a semester will allow me to fully develop the adaptability skills necessary to thrive in any foreign environment I may encounter throughout my life and professional career," she said.
Japan: Integrating Studies into a Cultural Experience
Wu, who is pursuing an accounting degree, is looking forward to incorporating her two-years of Japanese studies into her upcoming daily life abroad for the Spring 2018 semester. "I am extremely excited and nervous at the same time. I can't wait to be able to meet people from all around the world and making new memories during my stay," Wu said. "I know that it will be a great experience and allow me to grow both personally and professionally."
"With the help of the Gilman Scholarship, I am able to study in one of the top-rated business schools in Japan and expand my knowledge in international economics and finance," she added. "I hope to possibly work in Japan one day, and the scholarship provides a stepping stone for me to be closer to my career goals."
The Office of National & Prestigious Fellowships Advising guides students through the essential steps of applying for fellowships, including writing proposals. In recent years, Baruch students have been awarded Fulbright Fellowships, Critical Language Scholarships, Jeannette K. Watson Fellowships, among others.
# # #