Baruch College Ranks #2 in Best 4-Year Colleges by Schools.com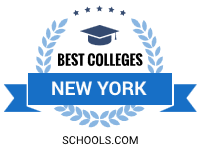 New York, NY – July 21, 2017 – Baruch College ranks #2 in "Best 4-Year Colleges in New York" by Schools.com.
For this survey, Schools.com "ranked 126 of the most prominent institutions in New York. After analyzing their costs, program availability and graduation rates, among other things, these schools rose to the top as the best four-year colleges in the state."
Accolades for Affordability and Diversity
According to Schools.com, "The Bernard M. Baruch College is an affordable option within The City University of New York. More than 18,000 people study within what has been called one of the most ethnically diverse student bodies in the nation."  Read here for more information from Schools.com about Baruch College.
Methodology
To compile its list of the best colleges, Schools.com ranked 1,649 colleges and universities throughout the country.  Using the most recent government data available, it looked at such factors as in-state tuition costs, grants and scholarships for low-income students, and median debt of graduates.
For more information, go here.
# # #