Baruch College Receives Top Rankings in Social Mobility in Most Comprehensive Study Yet Conducted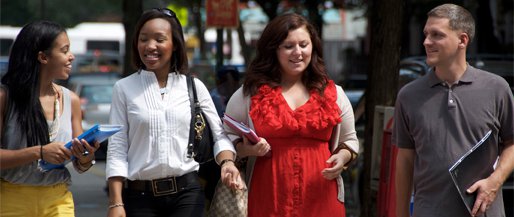 Ranks #5 and #9 in Key Indices of Big Data Study
New York, NY - January 20, 2017 - The Equality of Opportunity Project, the most comprehensive study yet conducted on college graduates, measured social mobility through the use of "big data to identify new pathways to upward mobility." Conducted by a team of economists from Stanford University, the study tracked 30 million students born between 1980 and 1991, linking tax returns to attendance records from nearly every college in the country.
Baruch College placed in the top 10 of two key indices of social mobility in the study's report:
Ranked #5 among colleges with the highest mobility rate from the bottom 40 percent to the top 40 percent.
Ranked #9 on the list of the top ten schools for upward mobility with 79 percent of students coming from the bottom fifth of the income distribution and moving to the top three fifths upon attaining their college degree
Additionally, the City University of New York (CUNY) system, where Baruch College is a senior college, overall placed third in social mobility with 7.2 percent of students moving from the bottom fifth to the top fifth of income distribution. CUNY joins Cal -State Los Angeles and SUNY Stony Brook in the top three.
According to the study, Baruch College has a very small share of students in the top one percent with 1.6 percent coming from that income bracket. It reported that 46.7 percent of Baruch students were from families earning less than $65,000 per year.
Media Coverage:
The New York Times highlighted Baruch College in its three-part series of articles that reported on this groundbreaking study. The coverage also featured interviews with President Mitchel B. Wallerstein and a Baruch alumnus.
New York Times coverage and the mentions of Baruch College:
The Upshot - a deeper  analysis with charts of the study (January 18, 2017)

Baruch College ranked #5 for "Colleges with the highest mobility rate, from the bottom 40 percent to the top 40 percent"
NYT Opinion: - "Budget Cuts That are Un-American" – by David Leonhardt  (January 19, 2107)

Profiles Baruch alumnus Alex Kosoglyadov ('09), now a director at the Bank of Montreal
###