Baruch College Ranks #2 for "Environment" Among Public Institutions in U.S. by the Wall Street Journal Times Higher Education

#8 among More than 1,000 Colleges and Universities across the Country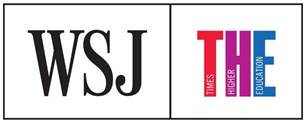 NEW YORK, NY - October 3, 2017 - Baruch College placed #2 in "Environment" among public colleges and universities in the United States according to the 2018 Wall Street Journal/Times Higher Education College Rankings. Among 1,054 public and private institutions nationwide, Baruch College placed #8 in the same category.
Now in its second year, the College Ranking partially look at the results of a survey of more than 200,000 current U.S. college students in the last two years. This survey examines a "range of key issues including students' engagement with their studies, their interaction with their teachers and their satisfaction with their experiences."
"Environment" Matters
According to the Wall Street Journal/Times Higher Education website, the "Environment" category addresses a question that is important to students and their families when considering a college: "What type of campus community is there?"
The College Ranking analyzes the composition of student body at the surveyed schools, "helping students understand whether they will find themselves in a diverse, supportive and inclusive environment while they are at college."
The analysis also looks at a school's proportion of international students, "a key indicator that the university or college is able to attract talent from across the world and offers a multicultural campus where students from different backgrounds can, theoretically, learn from one another."
Additionally, it considered student diversity – both racial and ethnic diversity and the inclusion of students with lower family earnings.
Methodology:
Developed in partnership with U.S. experts and universities, the College Ranking reports adopting a "balanced scorecard approach." They use 15 individual performance metrics, grouped into four pillars representing Resources (30%), Engagement (20%), Outcomes (40%) and Environment (10%).  Additional information on the methodology can be found here.
###