Ann Clarkson Receives the 2016 Outstanding Experienced Continuing Education Professional Award
Associate Dean Recognized as a Leader and Advocate in the Field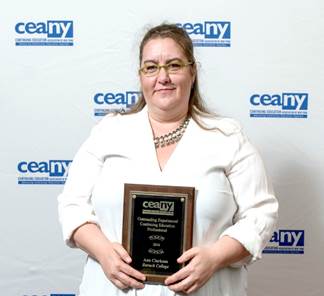 New York, NY- December 20, 2016 - Ann Clarkson, associate dean of Baruch College's Division of Continuing and Professional Studies, was awarded the 2016 Outstanding Experienced Continuing Education Professional Award, a distinction provided by the Continuing Education Association of New York (CEANY). The award was presented at the association's Annual Conference in Suffern, NY on November 10.
For more than a decade, Clarkson has been at Baruch College, leading one the largest continuing education divisions within the City University of New York that brings relevant and affordable educational opportunities to professionals in the New York City area and beyond.
According to the CEANY Resolution and Awards Committee, its members selected Clarkson for her "extensive history and excellent track record of lifelong learning efforts at Baruch College. She has had a true impact on your area of the state, the region and nationally. It is clear that she understands Continuing Education and its values. Her success is evident in her impressive nomination packet, and her contributions are now formally recognized by your colleagues across New York State."
During Clarkson's tenure as associate dean at Baruch, the College's Division of Continuing and Professional Studies has undergone a significant expansion of educational programming in local and international markets. Additionally, she has diversified the portfolio of available programs to include comprehensive educational programs for small businesses, corporations, New York City agencies and industry partners.
The Continuing Education Association of New York (CEANY) is a community of dedicated continuing education professionals focused on the needs of New York State public higher continuing education. The Association also advocates for the role of continuing education seeking to inform and influence state policy affecting continuing education and adult learners.
###