Allison Curseen Wins the 2017 Career Enhancement Fellowship by the Woodrow Wilson National Fellowship Foundation

Funded by the Andrew W. Mellon Foundation to Support Junior Faculty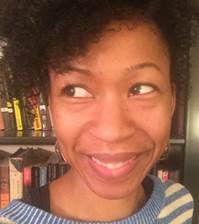 New York, NY – March 7, 2017 – Allison Curseen, a professor in the Department of English at Baruch College's Weissman School of Arts and Sciences, has been awarded the 2017 Career Enhancement by the Woodrow Wilson National Fellowship Foundation.
According to the Foundaton, the program "seeks to increase the presence of minority junior faculty members and other faculty members committed to eradicating racial disparities in core fields in the arts and humanities."
The year-long fellowship award,  which is funded by the Andrew W. Mellon Foundation­­, provides each Fellow with grant support for schoarly research, intellectual growth,  and an opportunity to particiate in an annual conference. Only 30 Fellowships are awarded each year.
Curseen, who holds a PhD in English from Duke University, and an MFA in Creative Wiritng from American University, has been offering courses in children's literature, young adult literature, African-American literature, and writing since joining the Weissman faculty in 2014. Her research focuses on the generative intersections of blackness and childishness within the American and African-American community.  Currently, she is working on a book examining the depictions of children's physical movements in mid-19th century American novels within the context of antebellum anxities and also editing her first book of poems, We Done Moved.
"I'm really excited about the award," said Curseen. "It's an amazing opportunity for additional mentorship and of course to push forward in my book project."
Curseen added, "I'm honored to be counted among a group of scholars who have and are doing really incredible work."
###