In the News


• Zicklin School of Business Part-Time MBA Program Debuts on Businessweek National Rankings
• Baruch College Recognized Among U.S. Institutions With the Most International Students


Announcements

• Presidential Excellence Awards Nominations Now Being Accepted
• Upcoming Baruch Programming to Air on CUNY TV


Sports

• Baruch CUNYAC All-Stars in Women's Cross Country and Tennis Announced

Events

• Nov. 29: SEC Climate Change Disclosure Requirements: What You Need to Know

Baruch Performing Arts Center Events

• Today, Nov. 17, 1 pm, Baruch Voices 4
• Tonight, Nov. 17: Film Screening and Discussion: Keeping Time: The Life, Music and Photographs of Milt Hinton
• Nov. 15-19: Sorrows of Stephen
• Nov. 18 - Jan. 28: Platanos Y Collard Greens


Offerings

• Nov. 28 - Dec. 9: CUNY Professional Development Courses
In the News
Zicklin School of Business Part-Time MBA Program Debuts on Businessweek National Rankings
For the first time ever, Baruch's Zicklin School Part-Time MBA Program was ranked as one of 2011 Best Part-Time MBA Programs in the nation by BusinessWeek. Zicklin School's Part-Time MBA Program was ranked #7 in the northeast region category and #60 in the nation.
As part of the 2011 Best Part-Time MBA and Best EMBA rankings, Bloomberg BusinessWeek surveyed 10,000-plus recent graduates from both types of programs at more than 100 B-schools. Rankings for the Part-Time MBA Programs are based on separate measures of student satisfaction, academic quality, and post-graduation outcomes. More info
Baruch College Recognized Among U.S. Institutions With the Most International Students
The Chronicle of Higher Education released its 2010-2011 list of U.S. Institutions with the "Most International Students." Baruch College was listed as #7 in the Graduate Level, with 1,951 international graduate students enrolled.
This announcement comes as the College celebrates International Education Week, November 15-18, with a series of programs that highlights the educational and cultural experiences of Baruch students. International Education Week is a joint initiative of the U.S. Department of State and the U.S. Department of Education as part of the efforts to promote programs that prepare americans for a global environment and attract future leaders from abroad to study, learn, and exchange experiences in the United States. More info
Announcements
Presidential Excellence Awards Nominations Now Being Accepted
Established and maintained by grants from the Baruch College Fund, the Presidential Excellence Awards are given to faculty members to stimulate and reward outstanding achievement and to enhance the College as a center of excellence. The Awards Committee is now seeking nominations for the Presidential Excellence Awards for Distinguished Scholarship, Distinguished Teaching, and Distinguished Service. All full-time faculty members, with the exception of Distinguished Professors, are eligible for these awards. (Adjunct members of the faculty are eligible for the Distinguished Teaching Award [Adjunct Faculty].) Faculty who have received Presidential Awards become eligible for another award in the same category after seven years. A list of recipients from the past ten years is available here.
Letters of nomination are welcome from any source within the Baruch Community, including departmental executive committees, deans, chairpersons, colleagues, and students. We also invite self-nominations and nominations from Baruch alumni. For more information on the awards, click here. To submit a nomination, click here. The deadline for nominations is Friday, February 24, 2012. No nominations will be accepted after this date.
Upcoming Baruch Programming to Air on CUNY TV
CUNY TV (ch. 75) features ongoing Baruch programming. Tune in on the following Mondays to catch these Baruch specials airing at 9 am, 3 pm, and 9 pm, and repeated on the following Saturday at 4 pm:

Nov. 21: Service and Citizenship: A Conversation with Jack Jacobs and Bill Roedy - Jack Jacobs, Vietnam War veteran and Medal of Honor Recipient, and Bill Roedy, Vietnam War veteran and former head of MTV Networks International, share their thoughts on uniformed and civilian service, engaging young people in leadership roles, and the nation's debt to non-citizens who served america in combat.
Dec. 5: Privacy, Data Mining and Business Ethics - The fourth seminar in the David Berg Foundation Series on Ethics and Accountability at Baruch College, this program examines the balance between corporate data mining and the individual's right to privacy.
Dec. 12: Ackerman Lecture: The Uneven Results of Diversity Management - Using data on over 800 firms for more than 30 years, this lecture shows that some of the most popular approaches to promoting diversity have been ineffective. Meanwhile, some of the lesser known, and less popular, strategies have been quite effective.
Click here to stay up to date on Baruch College specials on CUNY TV.
Sports
Baruch CUNYAC All-Stars in Women's Cross Country and Tennis Announced
The CUNY Athletic Conference (CUNYAC) officially announced the award winners and all-stars for the 2011 Fall women's tennis and cross country seasons. Among those recognized were Baruch's Sara Soto, Tracy Dimaculangan, Brenda Maqque and Andrea Gorotiza, who were honored with all-star status after finishing in the top 15 of the 6K CUNYAC Championship for women's cross country; tennis player Anna Komar was named a CUNYAC First Team All-Star, and Marianna Kogan a CUNYAC Second Team All-Star. For more on the CUNYAC honorees in cross-country, click here. For tennis, click here.
Events

Nov. 29, 6:00 pm: SEC Climate Change Disclosure Requirements: What You Need to Know

Newman Vertical Campus, 14th Floor, 55 Lexington Ave
SEC requirements for disclosure of material climate change impacts became effective in the early part of 2010. Virtually all public companies will now be reporting based on their assessments of how climate change will affect their business, and many questions remain as to what constitutes best practice in this emerging area of climate change risk disclosure. Join our panelists to learn what the disclosure requirements are (and aren't), what good disclosure practices are and what you can learn from companies who practice them, what you can expect to see and what opportunities these new guidelines may offer for analysts and asset managers to shape more informative disclosure going forward. More info

Baruch Performing Arts Center Events
Today, Nov. 17, 1 pm, Baruch Voices 4

Lawrence & Eris Field Building, Mason Hall, 17 Lexington Avenue
Hear the voices of Baruch College freshmen, written as monologues as part of Freshman Seminar, adapted to the stage, curated, and directed by Mahayana Landowne. More info
Tonight, Nov. 17, 7 pm. Film Screening and Discussion: Keeping Time: The Life, Music and Photographs of Milt Hinton
Engelman Recital Hall, Newman Vertical Campus, 55 Lexington Avenue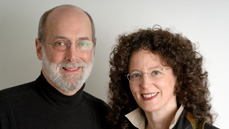 Join BPAC for a screening of the documentary Keeping Time: The Life, Music and Photographs of Milt Hinton, written, directed and produced by David G. Berger, Holly Maxson and Kate Hirson, about the life of the great jazz musician Milt Hinton, followed by a dialogue with filmmakers David Berger and Holly Maxson (pictured, left).
Born in Mississippi in 1910, Milt Hinton lived through more than seven decades of the history of jazz. Along with the bass that he mastered, he also carried a camera. His unusual photographs (currently on exhibit at Baruch's Mishkin Gallery), many of them never seen before, now number more than 60,000. This film traces his journey. More info

Nov. 15-19, Sorrows of Stephen

Lawrence & Eris Field Building, Bernie West Theatre, 17 Lexington Avenue
The Fine & Performing Arts Department of Baruch College presents Sorrows of Stephen, a full-length comedy written by critically-acclaimed playwright Peter Parnell. The play will be performed by Baruch College students of the Fine & Performing Arts Department and various guest actors.
Sorrows of Stephen first opened at The Public Theater on November 20, 1979, produced and presented by Joseph Papp and the New York Shakespeare Festival. Peter Parnell is an American playwright whose plays include The Cider House Rules, Flaubert's Latest, Hyde in Hollywood, and An Imaginary Life, among others. More info
Nov. 18 - Jan. 28, Platanos Y Collard Greens

Nagelberg Theatre, Newman Vertical Campus, 55 Lexington Avenue
Platanos & Collard Greens is a sweetly enacted tale of secret lovers — two college students from different cultures attracted at first sight — until mom finds out and has a heart attack! This smash hit play is now in its seventh season! If you haven't seen it yet, it's time to experience this hilarious romantic comedy. More info

*Limited Time Offer: Buy tickets and use discount code "special" to save 10% - or get a package deal to Platanos and upcoming play King of the World.

Nov. 19, 7 pm, The Manhattan Project 3.0

Lawrence & Eris Field Building, Mason Hall, 17 Lexington Avenue
Come witness the greatest South Asian theatrical extravaganza in Manhattan! Over 250 dancers, colorful costumes, powerful musical scores, dramatic themes and of course — DANCE! Get your tickets now before they sell out! More info
Offerings
Nov. 28 - Dec. 9: CUNY Professional Development Courses

Below is a listing of the remaining courses offered for November and December 2011 from the Office of Professional Development and Learning Management (CUNY University Training). To register for one or more courses, please complete the application located here and fax the completed application to Andrew Smilowitz in the Office of Human Resources at 646-660-6614 or e-mail your application to HR.Learning@baruch.cuny.edu no later than 7 days before the class date. Most courses are free or have a reasonable fee that will be charged to the College, not to individual department budgets.
For further information on professional development programs from CUNY University Training, please visit the CUNY training web site: www.cuny.edu/training.

For questions regarding registering for any of the courses, please contact Andrew Smilowitz at Andrew.Smilowitz@baruch.cuny.edu or 646-660-6592 or Leah Schanke at Leah.Schanke@baruch.cuny.edu or 646-660-6618.

Managerial Styles: Developing Your Leadership Strength
Monday, November 28, 9:00 am - 5:00 pm
Location: Central Office at Hudson Street
Managerial Styles is a one-day experiential workshop for managers and supervisors in which participants will explore the six most prominent management styles and the effects of these styles on work environment, employee motivation, and team performance. Participants will complete a self-assessment to assist them in identifying their preferred management styles and in determining the appropriate style for their work environment.

Understanding and Managing Organizational Change (C9172)
Tuesday, November 29, 9:00 am - 5:00 pm
Location: Central Office at 57th Street
Changes in leadership, processes, and technology can result in stress and resistance. This course will address the challenges of adjusting to and managing change. Learn strategies for managing apathy, criticism, negativity, and low productivity from colleagues, staff, and sometimes yourself. (For department heads).

Stressmakers and Stressbreakers: How To Stressproof Your Life (C9086)
Thursday, December 1, 9:00 am - 5:00 pm
Location: To be announced
Learn to better manage stress and develop greater resiliency to handle challenges in and out of the workplace.

Technology Friday: Excel Level 2 (WTT241)
Friday, December 2, 9:30 am- 4:30 pm
Location: Baruch College
Learn to rotate chart text, plot data, work with objects, sort and protect data, create headers and footers and work intensively with formulas and functions in Excel.

Time Management Strategies (C8002)
Monday, December 5, 9:00 am - 5:00 pm
Location: Central Office at Hudson Street
Learn time management techniques to maximize your effectiveness and develop more productive work habits through planning and prioritization.

Mind Tools for Memory *New* (C9279)
Friday, December 9, 9:00 am - 5:00 pm
Location: Central Office at 57th Street
Learn memory-enhancing techniques that can improve your ability to solve problems, organize your time, meet deadlines, work well with co-workers and clients, and project your best professional self.