In the News
QuantNet Best Seller of the Year Goes to Prof. Stefanica
For the second year in a row, A Primer for the Mathematics of Financial Engineering, a book by Baruch College Mathematics Professor and MFE program director Dan Stefanica, was named the QuantNet best seller of the year. QuantNet, the leading resource on Financial Engineering education, has posted their Top 25 Books of 2011 online here.
School of Public Affairs Experts Supporting City Policy Through Leadership Roles

Public policy expert Prof. Hector Cordero-Guzman has been serving as an advisory board member of the Young Men's Initiative, an effort of Mayor Michael Bloomberg to help advance opportunities for young black and Latino men. The Advisory Board provides important guidance and support toward this initiative.
In addition, SPA Prof. and Director of the Center for Nonprofit Strategy and Management Jack Krauskopf just wrapped his work with the Office of the Attorney General's Leadership Committee for Nonprofit Revitalization. The results of the work done by the Committee to reduce regulatory burdens and costs on nonprofits and strengthen their accountability are expected to be released in the near future.

Announcements
New Accessible Traffic Signal Installed at 25th Street Midblock Crosswalk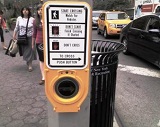 The City Department of Transportation has recently installed an accessible pedestrian signal at the heavily used crossing that connects the Information & Technology building and the Newman Vertical Campus. When the button is pressed, the walk signal comes on along with a "rapid tick" sound and a vibrating tactile arrow. These audible and vibrating signals alert people with vision- and hearing-loss to the presence of the walk signal. The rapid tick is now the national best practice sound that means "walk sign is on." Research has shown it to be detected more quickly than speech; it is also recognizable to non-English speakers. Baruch College's Computer Center For Visually Impaired People (CCVIP) requested the signal as part of its work with the PASS coalition (Pedestrians for Accessible and Safe Streets) chaired by Dr. Karen Gourgey, CCVIP director.
Baruch on CUNY TV in January
CUNY TV (ch. 75) features ongoing Baruch programming. Tune in on the following Mondays to catch this Baruch special airing  at 9 am, 3 pm, and 9 pm, and repeated on the following Saturday at 4 pm:

Jan. 23, 30:  Immigrants & Services in NY City - This School of Public Affairs Conference, co-sponsored by the Mayor's Office of Immigrant Affairs, looks at local immigration policies and services in the context of a burgeoning national debate on immigration and immigrants.

Click here to stay up to date on Baruch College specials on CUNY TV.
Sports
Baruch Men's Volleyball Ranked #10 in First National Div. III Poll of '12 Season
The Baruch Bearcats will begin the season as the #10 preseason nationally-ranked men's volleyball program in Division III thanks to the American Volleyball Coaches Association 2012 Top 15 Preseason Poll. More information on the ranking and the team's season schedule can be viewed here.
Current and Former Men's Basketball Players Come Together to Create Popular Basketball App
One current player and three alums of the Baruch College men's basketball program have partnered together in entrepreneurial style to create and market a basketball training app called "OneBasketball."
This special app gives players of all skill levels the basketball drills, basketball workouts, teaching and tracking ability to make every trip to the gym one that consistently enhances skills to keep on top of your game. More info
Baruch Performing Arts Center Events
Jan. 20-22: Valerie Green/Dance Entropy in Eternal Return

Nagelberg Theatre, Newman Vertical Campus, 55 Lexington Avenue
Dance Entropy is a professional modern dance company that performs in NYC, tours, and teaches both domestically and abroad as led by artistic director Valerie Green. Dance Entropy abstracts the potential chaos of the body and creates order through expressive movement reflecting the world in which we live. More info
Jan. 22, 5:30 pm, The New York Flute Club Presents Chris Norman, Celtic Flute

Engelman Recital Hall,
Newman Vertical Campus, 55 Lexington Avenue
The New York Flute Club continues its 92nd concert season at Baruch Performing Arts Center with Chris Norman on Celtic flute. More info